Latest from Kathmandu
To clear up the confusion, this letter was written by one of blogdai's contacts. Opinions expressed are not necessarily those of blogdai.. but pretty close. -=blogdai
Candle fest, Thamel Feb 7.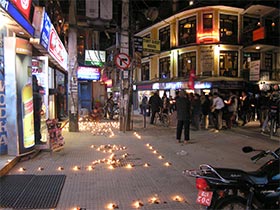 Hello everyone
It is a nice sunny day in Kathmandu, the outlook for the country is sunnier too.
In short the King has taken over, otherwise very little has changed, indeed the situation looks more stable and better than for the last 6 years. I can see no reason for anybody to cancel their Nepal plans.
There will be no strikes in Kathmandu this year and the Everest region is still completely safe for trekking, other regions are OK also; we are running all of our Manaslu, Nar Phu and Kanchenjunga treks, and will update you if we think the situation has changed. Note we always have interesting backup treks in mind so that you don't have to cancel your holiday.
Last week the telephone lines were cut so as the Maoists and politicians could not organize protests; this is not the time for protests from those who are 100% responsible for the trouble the country is in. Now communications are back to normal, apart from mobile phones.
The attached pic is of a small rally supporting the King, and every Thamel business had candles outside offering support too.
The long version
With some 43 (corrupt and/or incompetent) politicians under house arrest and King directing the Government the mood in Kathmandu is one of jubilance and optimism, this long overdue move was absolutely necessary to save the country - literally - and finally Nepal might be ruled by people who actually care.
Despite the tone in the foreign news papers virtually everyone in Kathmandu supports the king's move however the talk must be followed by action and everyone is watching closely, hoping. I have yet to meet anyone in Kathmandu who is against his move - and this is also easily measured, the Maoists had called a second three day strike; yet everything is running completely normally, apart from mobile telephones.
In the broad political chess game the King stood up for the people with a vigorous, well planned and constitutional takeover but is risking everything, necessarily so for the sake of the country. Make no mistake this is an major escalation, instead of an energy-sapping three way struggle between the King, the feckless politicians and the Maoists, there are now only two combatants. Democracy is not dead, only necessarily suspended, and being long used to feudal systems, few Nepalis have any problem with that.
Since the arrival of democracy in 1991 successive governments were feudal in behavior, grossly corrupt, shortsighted and narrow-minded and by neglecting even basic development allowed a Maoist insurgency to start in 1996. As the stakes were raised to the point of a gun against their head, not one of the main political leaders could get their fingers out of the honey pot, proving time and time again they were utterly, hopelessly incapable of solving the country's multitude of problems. The ordinary Nepali people have suffered immensely and deserve better.